BlueSky COVID-19 response initiative
The BlueSky Defender™ is an air filtration system based on the same technology that's successfully used in aircraft cabins. Learn More  ➜
TUNNEL CONSTRUCTION DUST COLLECTOR
A tunnel dust collector that's compact, modular, and does not require any on-site dust-handling or filter change-outs
When it comes to a BlueSky® tunnel dust collector, compact and modular go hand in hand—compact by design, sectional and modular by nature. Because of that, it's never bigger than it needs to be. Always the right size for the job. A BlueSky® dust collector can accommodate two, three, or more sections depending on what dust-collection capacity is required.
The "secret weapon" of a BlueSky® dust collector is the SmartBox® module. This module is a sealed box that contains the filters and captures the dust. For this reason, on-site personnel never comes in contact with dirty filters or the collected dust.
A BlueSky® tunnel dust collector can induce an airflow rate of up to 60.000 m³/Hr (40,000 SCFM) and has 2 tons of dust capacity.
* figures are specific for a dust collector in maximum-capacity tunnel configuration
Call:  (+1) 346 774 5122 United States
             (+31) 651 559 316 Europe
             (+57) 312 344 7024 South America
             (+61) 490 401 106 Australia
If lines are busy please text or email
An estimated 26%–53% of COPD can be attributed to occupational exposures
National surveys have shown that exposure to dust, grain dust, organic dust, inorganic dust, fumes, hydrogen sulfide, diesel exhaust, environmental tobacco smoke, and chemicals increases the risk for COPD morbidity and mortality. — CDC (Centers for Disease Control)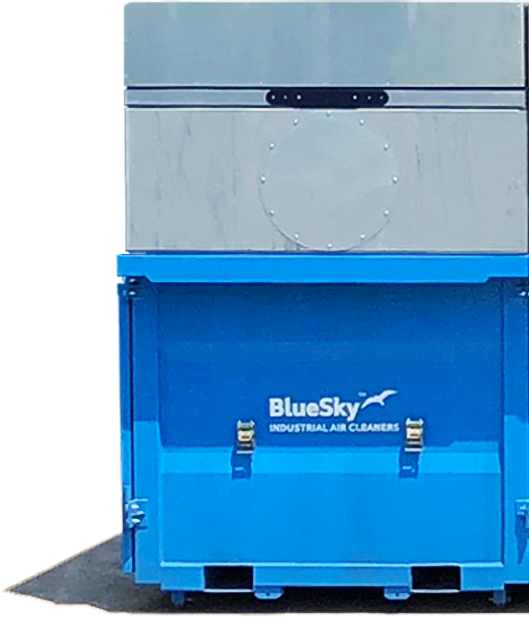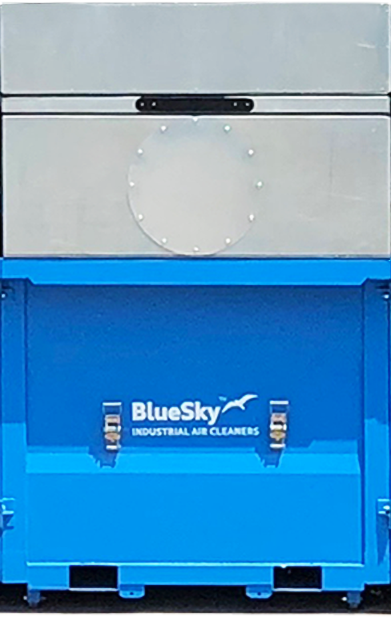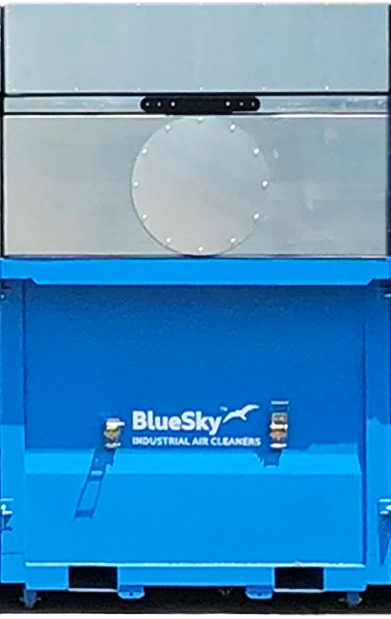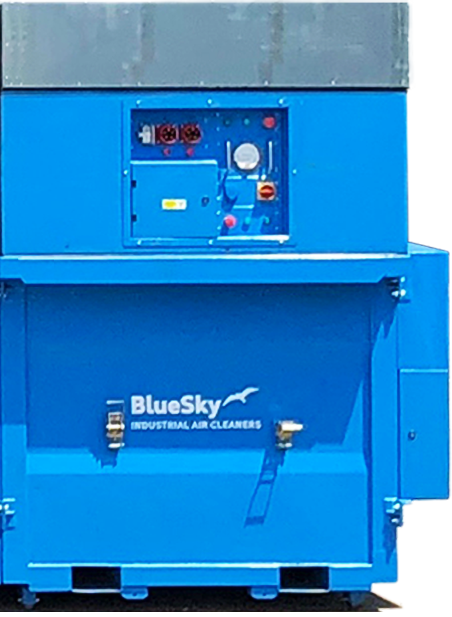 Safety. The SmartBox shields workers from the negative effects of handling dust associated with the dust collector.
Convenience. Filters and collected dust are locked together inside the SmartBox (sits in the blue carrier) —therefore personnel never needs to touch dangerous dust or dirty filters.
Dust collection systems can be a challenge to operate during tunnel constructions, because of restricted space and access. Despite these challenges, dust collection is essential to the health of employees and to maintain productivity.
While wet-down procedures are commonly used, dry dust ventilation offers several benefits, particularly during equipment maintenance and when ground water contamination risks are high.

BlueSky® tunnel dust collectors are ideal as a temporary option during primary tunneling activities. They are also the best option for tunnel maintenance and repair work. BlueSky® dust collectors are quickly set up and are a worry-free solution. Short-term rentals, as well as long-term leases, are both available.
Independent service suppliers can take care of the installation and the safe disposal (on-site or off-site) of all waste dust and filters.
BlueSky also offers an all-in Turnkey Service. Learn more
About Us
BlueSky® Global LLC is currently the only company in the world that manufactures and distributes patented* Industrial dust-collection systems equipped with SmartBox®  Technology.

Because of the worldwide trend of tightening environmental laws, this patented* solution has been hailed as the most practical and cost-effective on the market today.
*includes Europe, China, India and other countries
For all inquiries, use contact form or call:
(+1) 346 774 5122 United States
(+1) 647 506 5555 Canada
(+31) 651 559 316 Europe
(+27) 832 667 453 Africa
FOLLOW US
We regularly post new articles on Linkedin and you can find all our videos on Youtube.