CDC says: Ensure facility policies and practices are in place to minimize exposures to respiratory pathogens including the virus that causes COVID-19 (Coronavirus)
THE BLUESKY INDUSTRIAL DUST COLLECTOR SHOWN ABOVE, WITH JAMES, INCLUDES ENCAPSULATED FILTERS, REVERSE-PULSE FILTER CLEANING, AND ULTRA-QUIET FANS. ALL INTEGRATED INTO ONE MACHINE.
BlueSky

®

Industrial Dust Collectors
For hazardous and non-hazardous airborne contaminants
Up to 60,000 SCFM airflow capacity
SAFEST AND MOST COST-EFFECTIVE TECHNOLOGY
For permanent installations or temporary rentals
Low overall maintenance expense
BlueSky is revolutionizing the dust collector industry—it's no longer necessary, or even desirable, to own your dust collector outright. Simply rent a machine, short- or long-term, from your waste management company, equipment rental company, or directly from BlueSky.
A BlueSky® dust collector can be used as a mobile dust collector or as a permanent-installation dust collector. We make the bold claim that it performs both functions better than any other industrial dust collector on the market.
What makes a BlueSky® dust collector unique? Most importantly, you never touch contaminated filters! When it comes time to replace filter cartridges, you simply exchange the SmartBox® module (think inkjet cartridge). All our competitor's dust collectors require individual filters to be removed one-by-one (a risky operation).
The used SmartBox is taken away and disposed of or serviced appropriately.
The SmartBox® module is key to risk-free, safe, and environmentally-friendly dust collector usage. The SmartBox encapsulates the filters and, in the case of hazardous dust, it's where the filtered dust is collected. At the time of service a SmartBox is removed by you, or your service contractor and a new or re-conditioned SmartBox is installed.
Now that's smart!
Most industrial dust collector companies offer some form of modular design, but BlueSky has reached an unprecedented level of simplicity with its modular system.
It takes only a few bolts to attach a new section. Each addition changes the machine's capacity and/or functionality. For example, incorporating HEPA filtration simply means adding an additional section.
It's so simple, it often elicits the reaction
"Why hasn't anybody thought of this before?"
Industrial dust collectors have never looked like this before

⤸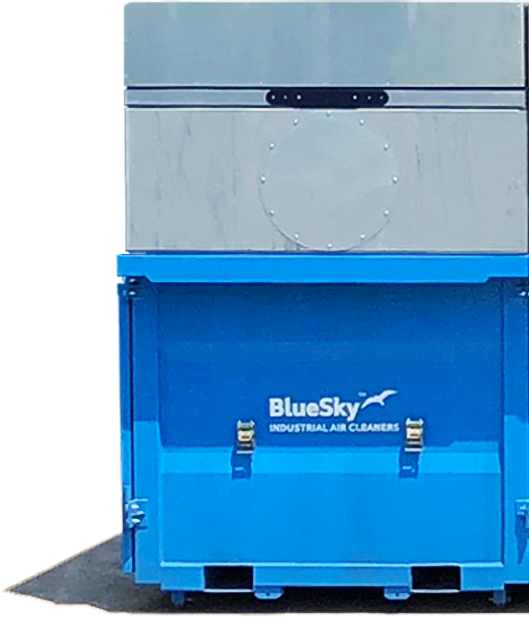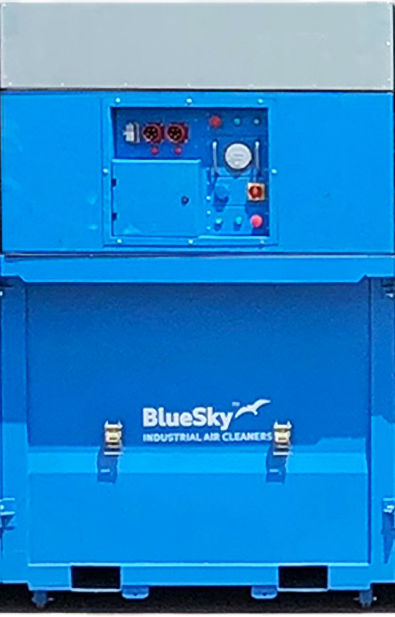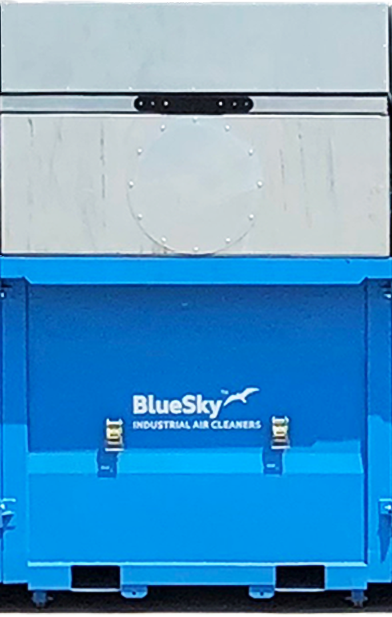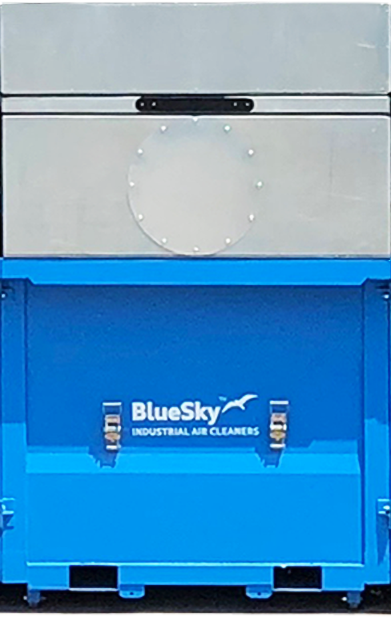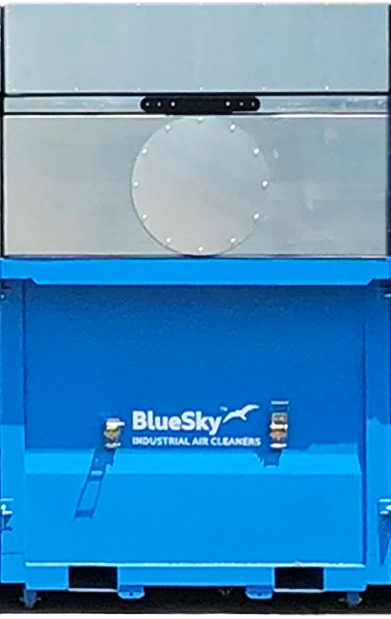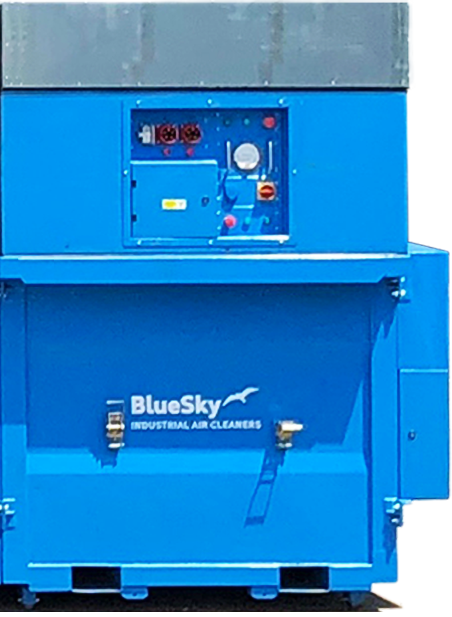 BlueSky

®

dust collectors consist of two, three or more sections, it's a variable capacity, modular system, that can grow with you.
The Genius SmartBox

®

System
Using a BlueSky®dust collector with its patented SmartBox® Technology means hazardous dust and filters are always encapsulated, during use and disposal. Nobody touches any pollutants ever. It protects worker's health, saves the environment and shields businesses from future lawsuits.
Clean air shouldn't give you a headache
I sold my thermal spray company Amstar in 2010 (now a GE company). Amstar did on-site projects in industrial environments where we created lots of dust. It frustrated me that I could not find a dust collector that was safe and easily adaptable to a variety of conditions.
That woke up the inventor in me, and in 2005 I developed the blueprint for an entirely new dust collector. My patented, modular design uses SmartBox® modules that encapsulate the filters and captured dust. So, no more spills or messy filter change-outs. And no more headaches!

— Dr. Michael Seitz
INDUSTRIAL DUST COLLECTORS
Examples of BlueSky® industrial dust collectors installed as permanent solutions, and in use as mobile dust collectors.
Frequently Asked Questions
A dust collector that requires no clean-up or filter changes. There are also no drums or bags. All the captured dust and dirty filters stay inside the SmartBox. There's no auger to content with either, quite ingenious.
I've seen this dust collection system at work in Europe and it ran like a Swiss watch.
- Arie Verstappen
Great team and an amazing product!!!

- Jeff Solomon
Less exposure = less risk!

- Michael J. Nielsen, CSP
We now have BlueSky mobile dust collectors installed as stationary units at both of our manufacturing plants and they have proven to be very reliable and cost-effective.

- Tuma Milan, Manufacturing facility Czech Republic
About Us
BlueSky® Global LLC is currently the only company in the world that manufactures and distributes patented* Industrial dust-collection systems equipped with SmartBox®  Technology.

Because of the worldwide trend of tightening environmental laws, this patented* solution has been hailed as the most practical and cost-effective on the market today.
*includes Europe, China, India and other countries
FOLLOW US
We regularly post new articles on Linkedin and you can find all our videos on Youtube.