INDUSTRIAL DUST COLLECTOR RENTAL
Up to 60,000 SCFM & 6 tons of dust capture capacity. With integrated dual-stage HEPA filtration. Ideal for asbestos, silica dust, bio-waste and toxic metals
Industrial dust collector rental
Opting in favor of renting a BlueSky® dust collector very often comes down to smart risk management. Only BlueSky®dust collector rental units come with SmartBoxTM Technology. This patented containment system encapsulates the collected hazardous dust and filters.
Dust and filters are never seen or touched during machine-use or the disposal process. That's why a BlueSky® dust collector rental unit never needs cleaning. The use of a dust collector with a SmartBoxTM module protects both workers and the work environment.
Never a one-size-fits-all solution
A BlueSky® industrial dust collector rental is always a customized solution. Sometimes you need 5,000 CFM capacity, at other times 60,000 CFM.
Stack options include primary, secondary, HEPA and activated carbon filtration. Air infusion, climate control, and fan modules are also available. "Stack" is BlueSky-speak for the plug & play modules that are interconnected as "sections" to form a BlueSky® dust collector. That's why a BlueSky® dust collector is always a customized solution, configured to your capacity and functionality requirements.
Dust Collector Lease Options
In addition to our industrial dust collector rental program, BlueSky also offers a variety of long-term lease options. No matter your budget, we can usually find a finance solution that will fit your particular situation.
Call Thomas at BlueSky +1 346 774 5122 to discuss further.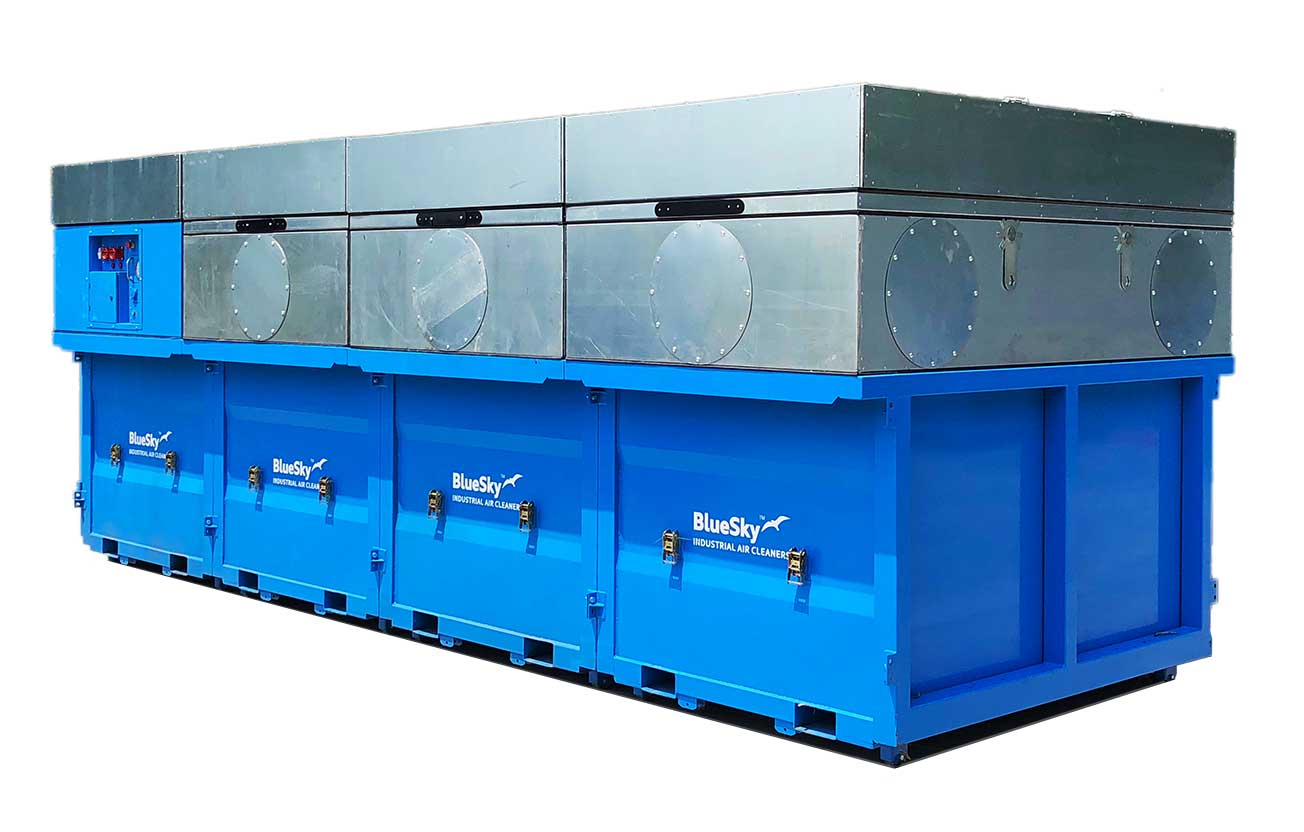 Industrial dust collector rental made easy
The right industrial dust collector rental every time. From 5,000 to 60,000 CFM.  With or without the integrated dual-stage HEPA filtration module, but always with the protection of our groundbreaking SmartBoxTM Technology. That means you never clean out the machine and you never touch any dust or dirty filters. The ultimate protection for workers and work-environment!
We'll customize a solution over the phone, or by email, based on your specific air cleaning needs. From 5,000 to 60,000 CFM per unit (depending on dust type).
That's the BlueSky difference. Because every dust collector rental unit is tailored to your specific needs, you always get the most cost-effective solution.
Dropped off, ready to run
Your dust collector is delivered by a standard roll-off truck and moved into place. Then connect the ducting, power and compressed air and you're up and running. It's that easy!
BlueSky Industrial Dust Collector Rental
United States, Europe, South America, Australia

BlueSky® industrial dust collectors come in a variety of sizes.
Up to 60,000 SCFM airflow rate, and six tons of dust capacity
Industrial Dust Collector Rental U.S.A.
Our headquarters are located in Houston TX but our dust collector rental program is available throughout the entire United States and Canada.
Call or send us a message.
Industrial Dust Collector Rental Europe
With representation in Norway, Germany, The Netherlands, and the Czech Republic, we can serve the larger European market.
Call or send us a message.
Industrial Dust Collector Rental S. America
For more dust collector rental information in South America, call Peggy in  Houston TX, or contact our representative for South America directly.
Call or send us a message.
FOLLOW US
We regularly post new articles on Linkedin and you can find all our videos on Youtube.