HEPA AIR FILTRATION SYSTEM FOR FILTERING AIRBORNE VIRUSES (THINK CORONAVIRUS)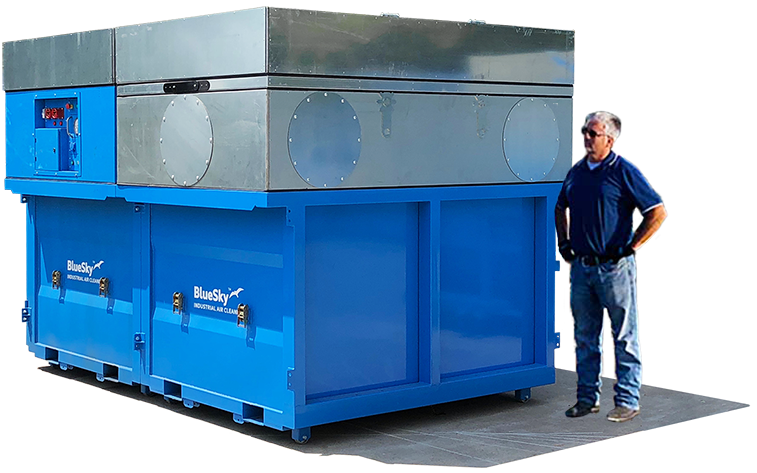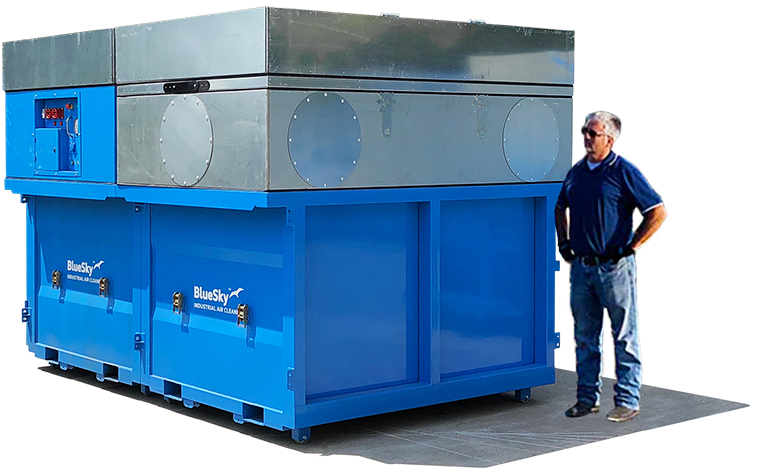 Large-Volume Mobile HEPA Air filtration System

*
Deploying a (temporary) HEPA air filtration system* in large public places to help reduce the spread of the coronavirus makes sense. For government facilities, supermarkets, drug stores, airport check-in areas and other places that need to stay open, BlueSky offers temporary HEPA air filtration systems* designed to handle up to 25,000 SCFM of contaminated air per machine.
BlueSky Global is currently the only company in the world that manufactures large mobile HEPA air filtration systems* that are ideal for temporary use in enclosed settings such as emergency isolation, temporary hospitals and quarantine facilities.
*Patent pending

BlueSky

®

HEPA air filtration system
The BlueSky® Defender HEPA filtration machine can help prevent the spread of COVID-19 by filtering indoor air. BlueSky air-filtration systems are also used for asbestos, lead paint,  and other remediation work.
Virus transmission through breathing aerosols
Excerpt of an article by:
Vincent Racaniello Ph.D., Professor of Microbiology & Immunology, Columbia University.
The importance of aerosol transmission is illustrated by an outbreak of influenza aboard a commercial airplane in the late 1970s. The plane, carrying 54 persons, was delayed on the ground for three hours, during which time the ventilation system was not functional. Most of the travelers remained on board. Within 72 hours, nearly 75% of the passengers developed influenza. The source of the infection was a single person on the airplane with influenza.
Experts tell White House coronavirus can spread through talking or even through just breathing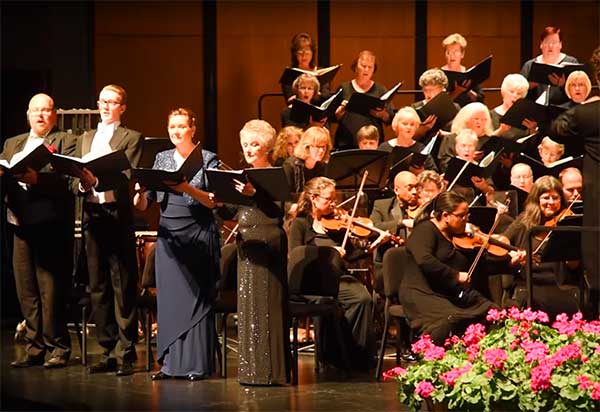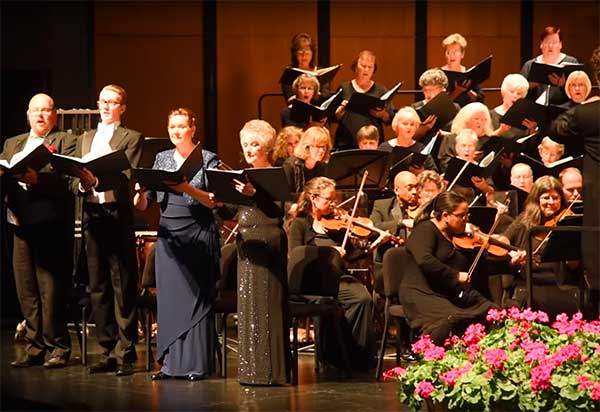 Coronavirus spreading through breathing aerosols

Can HEPA Air Filtration keep indoor air free of viruses?
Hospitals use HEPA air filtration in their most critical areas (operating rooms). In airplane cabins, the air is circulated through a HEPA filtration system.
Does this mean that we should set up (temporary) HEPA air filtration in public places such as schools? Would that be a practical solution, and would HEPA filtration be able to limit the exposure to pathogens like coronavirus?
Michael Osterholm, Director of the Center for Infectious Disease Research and Policy (CIDRAP)
Dr. Osterholm has been warning of pandemics like the Coronavirus for years, and predicted its recent spread.
In this conversation, Kent Erdahl and Dr. Osterholm discuss how the virus spreads, the current public health measures being used to tackle it and how to combat fear surrounding it with useful information.
Airborne Coronavirus may pose the greatest risk of all . . .
Particles with a diameter smaller than 10 microns are able to remain airborne for long periods (days sometimes). Particles produced during coughing and sneezing are not simple water droplets that quickly evaporate.
They consist of mucus that can harbor large numbers of pathogens and these airborne floating mucus-smidgens can be breathed deeply into our lungs.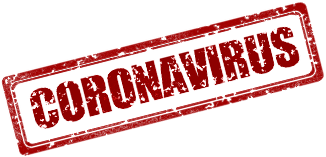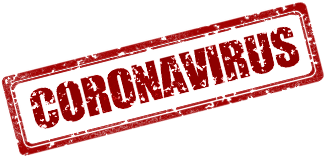 BlueSky

®

Defender, HEPA air filtration systems*. For (very) large indoor spaces
BlueSky® Defender HEPA air filtration machines are designed to handle up to 25,000 CFM (40,000 m³/hr) of air filtration per module, with up to four modules stacked inside a single roll-off machine for large areas, 100,000 CFM (160,000 m³/hr).
And because all the HEPA filters are fully encapsulated inside the SmartBox, no local service personnel will EVER be exposed to contaminated filters.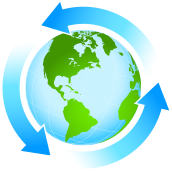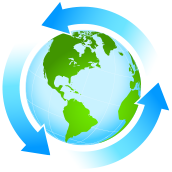 Mobile HEPA air filtration systems* for temporary hospitals and quarantine facilities
Temporary hospitals and Coronavirus quarantine facilities are being set up all over the world. Large mobile HEPA air filtration systems that can filter high volumes of contaminated air are in short supply. BlueSky manufactures and supplies powerful HEPA air filtration machines that can be installed on short notice.
   For all inquiries call:



HEPA filters are safely sealed inside the BlueSky

®

SmartBox
The SmartBox is an integral part of a BlueSky® air filtration machine. Unlike other HEPA filtration systems, the filters in a BlueSky® machine are never touched. They are sealed inside the SmartBox. This makes it an ideal solution for air filtration where Coronavirus or other pathogens are present.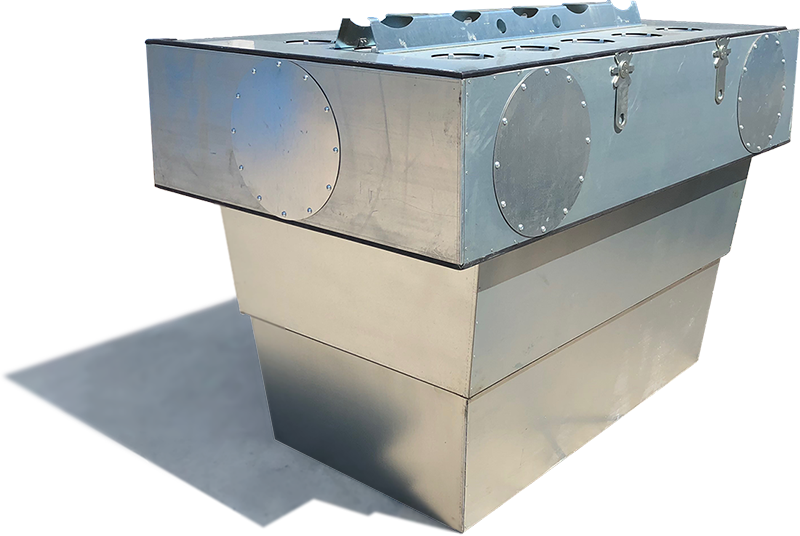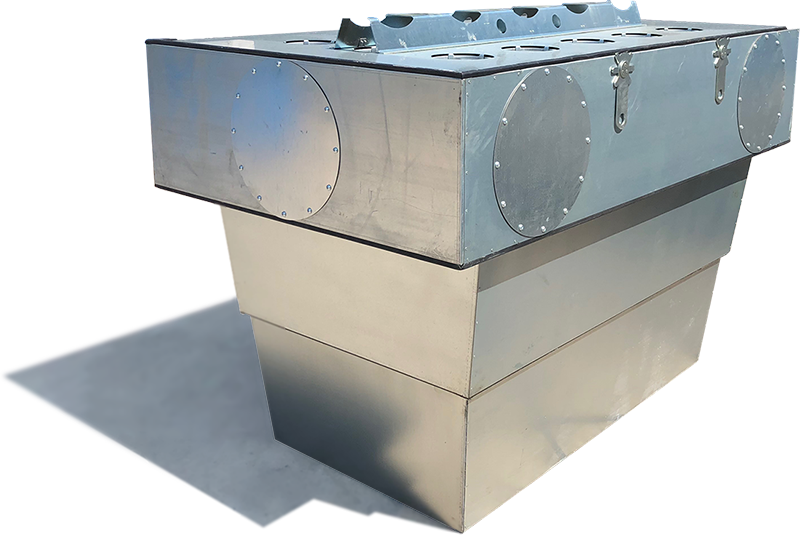 HEPA Air Filtration System for Coronavirus Mitigation
With a BlueSky® machine the disposal and the end-of-use phase does not require exposure to any service personnel. A used SmartBox is simply removed and transported to a medical waste-handling facility such as Republic Waste Management or Stericycle.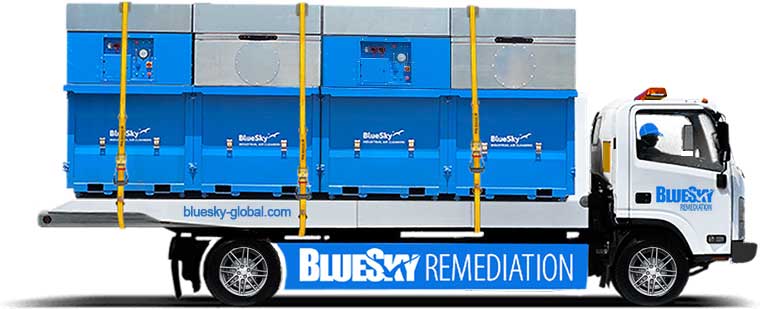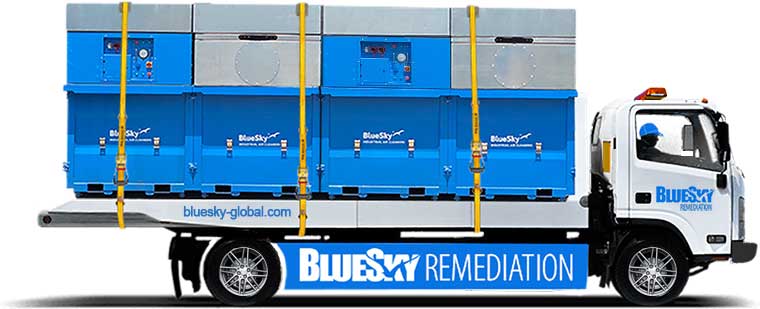 Examples of how BlueSky

®

HEPA air filtration systems* can be utilized, in retail and other public spaces, to channel contaminated air away from patrons and personnel (the way it's done in hospitals and aircraft cabins)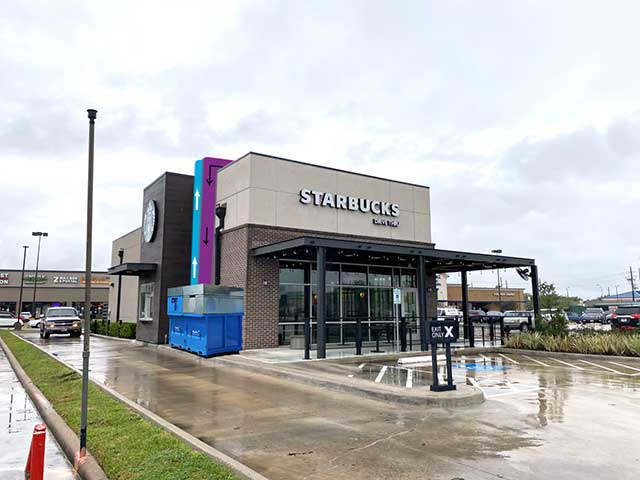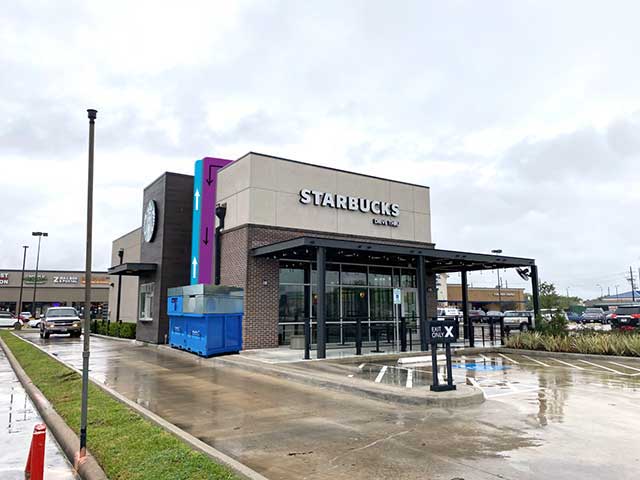 BlueSky® HEPA air filtration machines* use a proprietary SmartBox® system that encapsulates the contaminated filters (sealed box which can be picked up and exchanged by a waste company).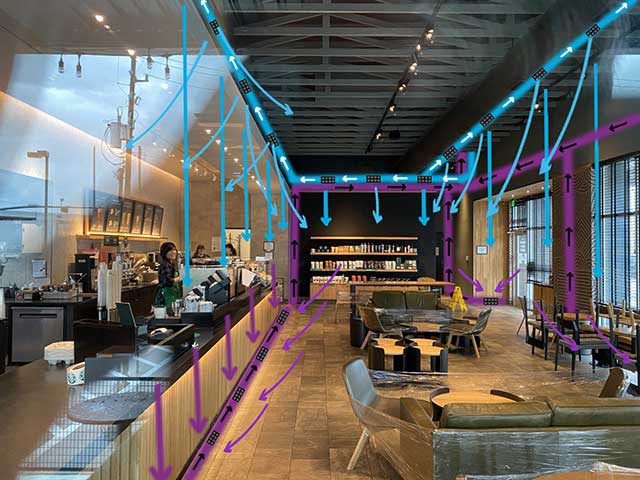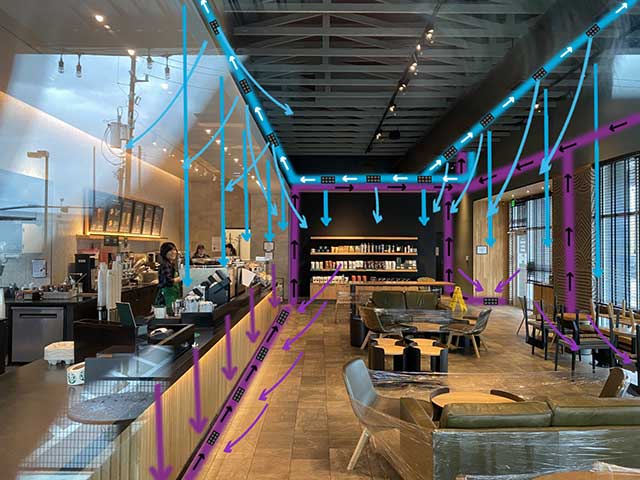 A positive laminar airflow is created by clean, HEPA filtered, air coming in from above (blue ducts) and "breathed out" air that's channeled away through the bottom ducts (purple)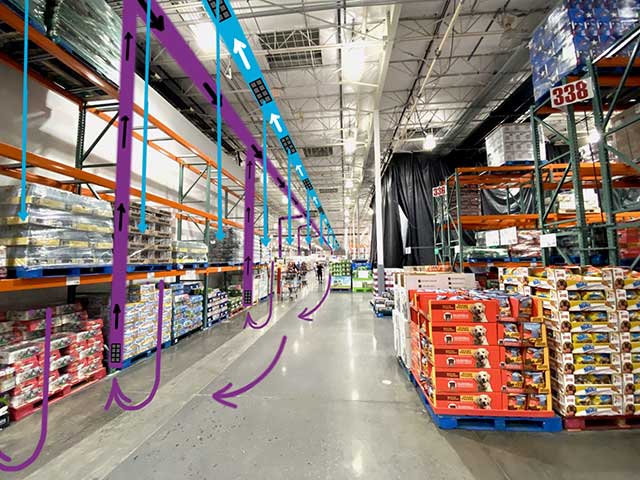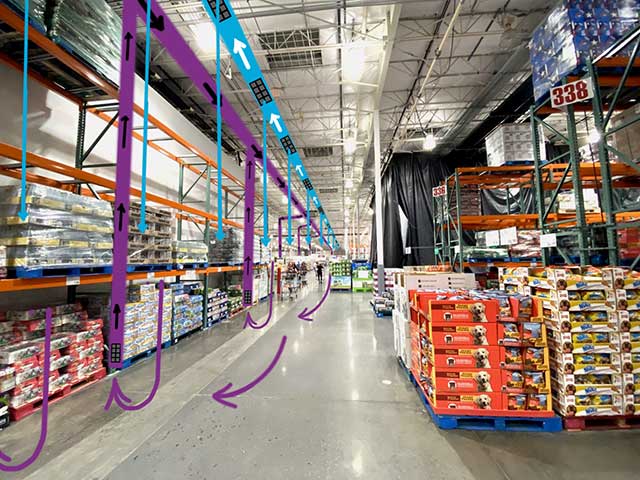 A BlueSky® HEPA air filtration system* can be installed relatively easily in larger retail spaces. The ducting can simply hang from the rafters. Patrons will feel more comfortable, knowing everything is done to protect them while they are shopping.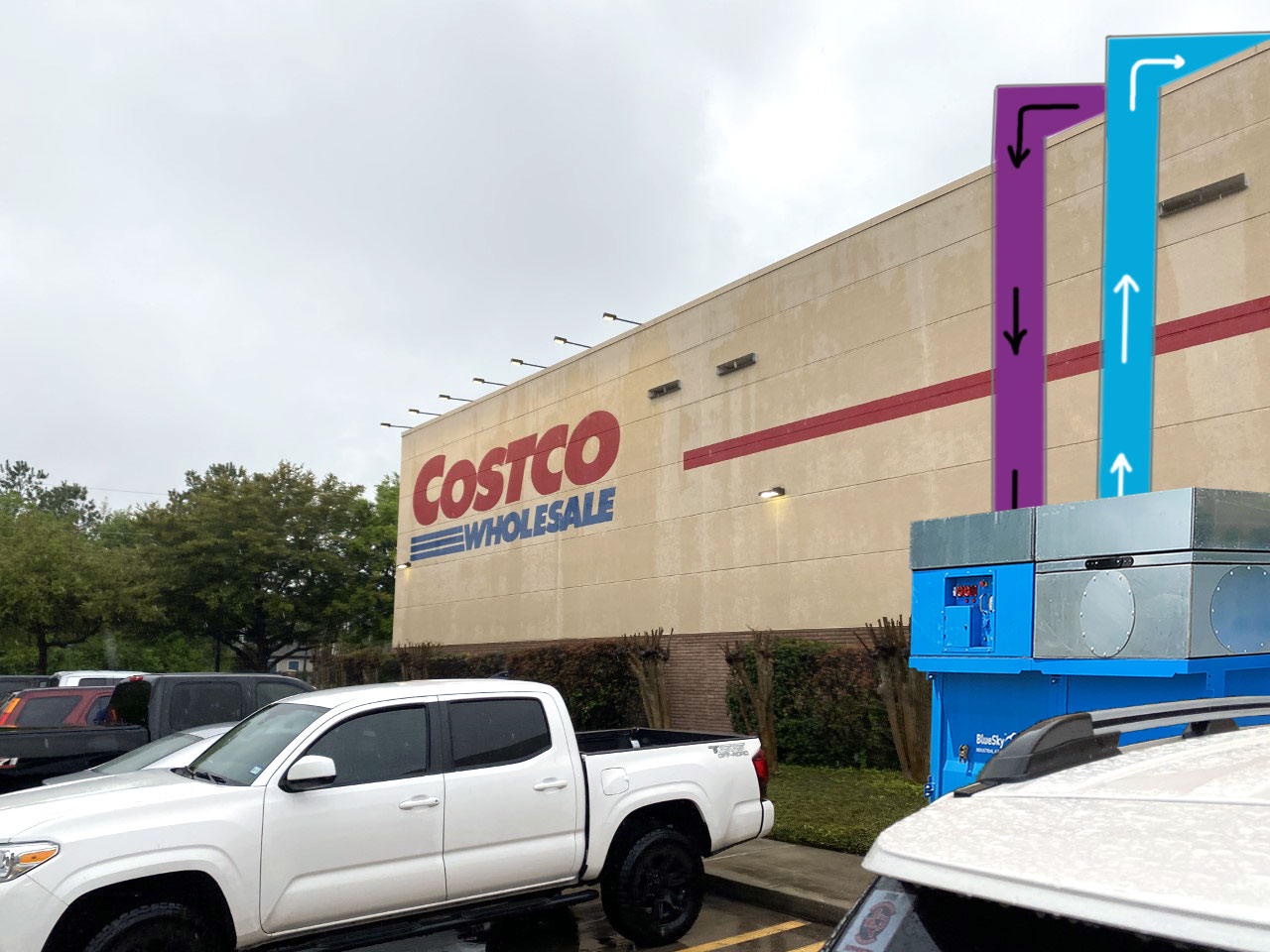 A BlueSky® HEPA air filtration system* is a modular plug and play arrangement that can accommodate any capacity requirement, by simply adding modules to the system. The entire system is mobile and can be rented temporarily, or installed for permanent use.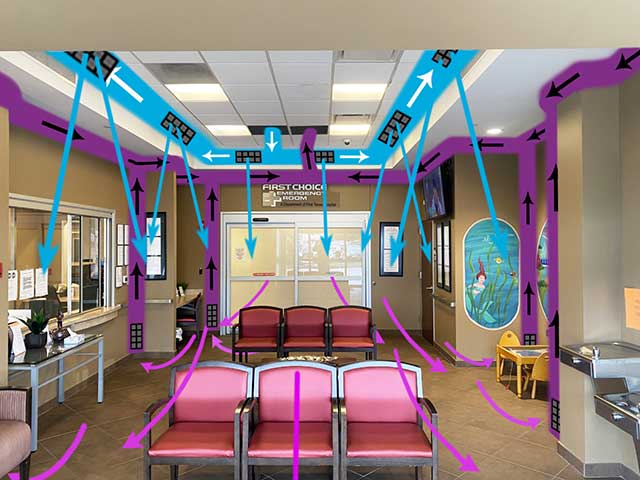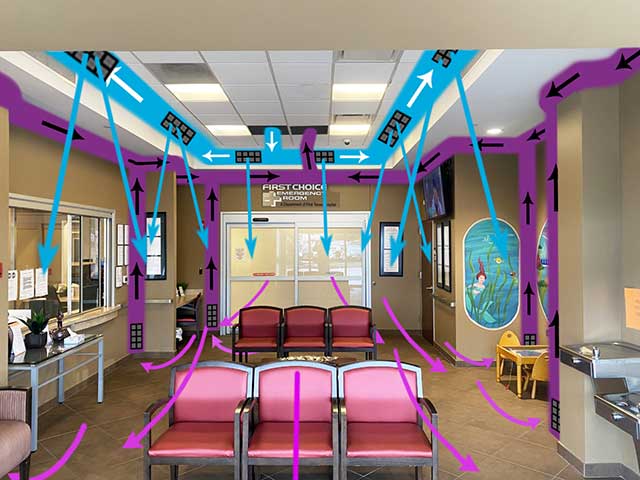 Some of the most obvious utilizations for a HEPA air filtration system* might be patient waiting (check-in) areas at medical facilities.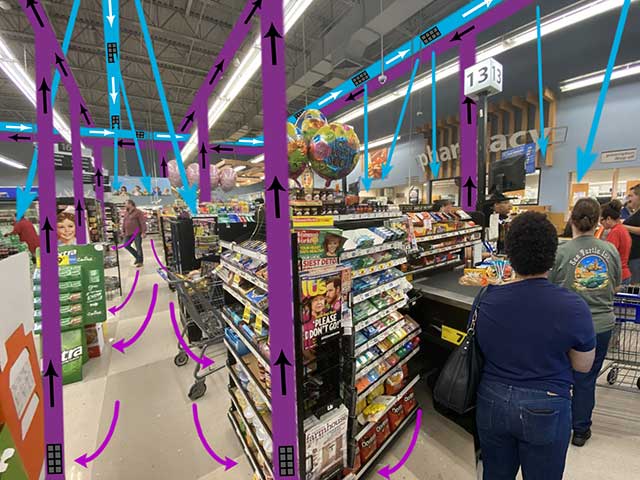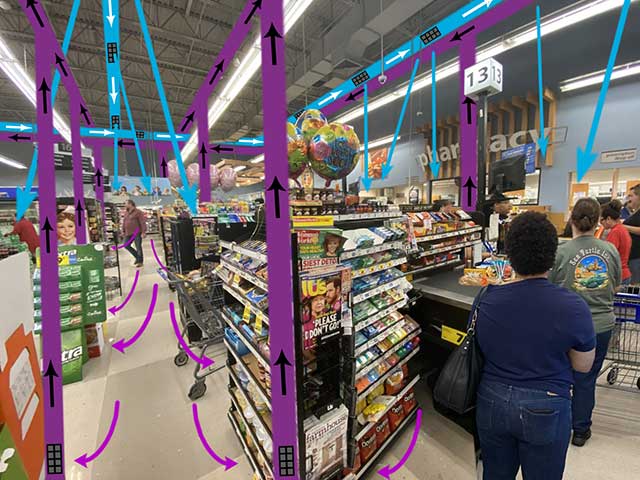 The coronavirus threat has moved supermarkets to hang plastic sheets between shoppers and cashiers. A HEPA air filtration system* that creates down-draft (done in hospitals and aircraft cabins) can further minimize virus transmission through the air.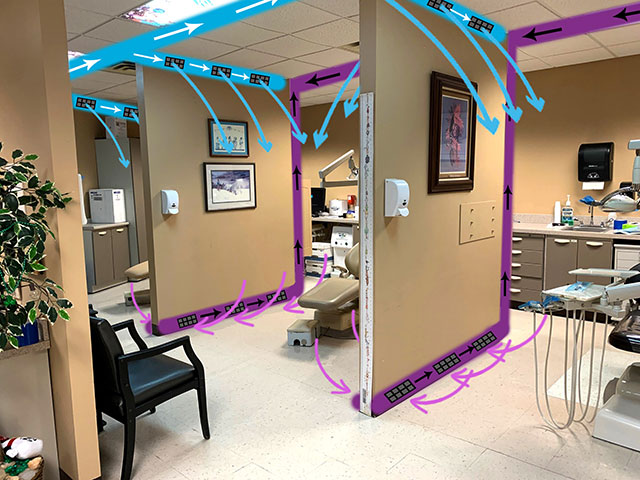 HEPA filtration systems*. Practical solutions for dental facilities.
In a dentist chair, doctor and patient will feel vulnerable for obvious reasons. Since, for patients, wearing a mask during a dental procedure is not an option, installing a secure HEPA filtration system*, similar to what is used in hospital operating rooms makes sense. It puts doctors and patients at ease, protects their health.
Recommended use for mobile, large-volume, HEPA air filtration systems
Common sense would dictate that cleaning the air we breathe in public spaces is a smart thing to do. Large-volume BlueSky® air filtration systems can be successfully utilized to filter out pathogens from the air in public spaces, to protect us from unnecessary risk. And because of the technology incorporated in the BlueSky® machines, the HEPA filters that capture the pathogens NEVER need to be opened by service personnel—keeping them safe too.
Schools and universities
Training centers
Hotels
Convention centers
Grocery stores
Waiting rooms
Hospitals
Cruise-ship docking & boarding areas
Transportation hubs
Cinemas and theaters
Doctors offices
Quarantine facilities
Event halls
Nursing homes
Military facilities
Dorms
Retirement homes
Post offices
Vets
Voting stations
Restaurants
Food preparation facilities
Weddings
Churches
Theme parks
Call centers
Consumer goods processing
Packaging
Warehouses
Distribution centers
Courtrooms
Government offices
Retail stores
Large open-plan offices
Prisons
Frequently Asked Questions
About Us
BlueSky® Global LLC is currently the only company in the world that manufactures and distributes patented* Industrial dust-collection systems equipped with SmartBox®  Technology.

Because of the worldwide trend of tightening environmental laws, this patented* solution has been hailed as the most practical and cost-effective on the market today.
*includes Europe, China, India and other countries
For all inquiries, use contact form or call:
(+1) 281 682 6796 — United States
(+420) 777 821 020 — Europe
(+57) 312 344 7024 — South America
(+27) 832 667 453 — Africa
(+1) 281 682 6796 — John Burton
If lines are busy please text or email
FOLLOW US
We regularly post new articles on Linkedin and you can find all our videos on Youtube.